Subscribe And Save For BEST PRICE!
Or Buy One Bottle, Get ANY Second Bottle For 25% Off.
Discount Automatically Calculated At Checkout.
Regular price
$ 16.95 USD
Regular price
Sale price
$ 16.95 USD
Unit price
per
Sale
Sold out
FREE SHIPPING ON ALL ORDERS!

60 and 150 Capsule Bottle Size

30 Day Money Back Guarantee
60 Capsule bottle provides a one month supply or 150 Capsule bottle provides 2 1/2 months supply.
See Reviews At Bottom Of Page
View full details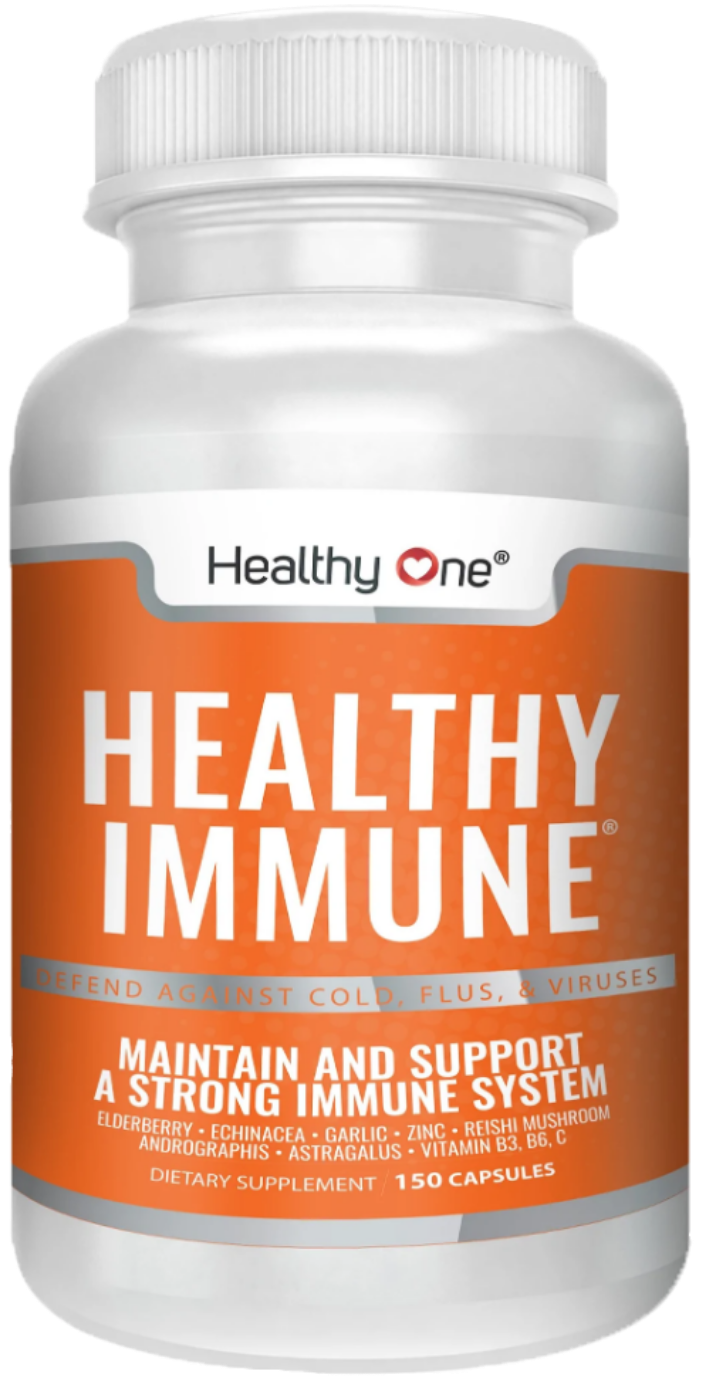 100% Satisfaction Guarantee
Healthy Immune by Healthy One is our own proprietary blend manufactured in the USA. We are an FDA registered facility. This is not a white label or third party product!

Strong immune system booster
Bolster up your body's immune defense with Healthy Immune's Comprehensive Immunity booster, loaded with vitamins, minerals, antioxidants & other key nutrients to promote the best immunity support. An advanced combination of the most powerful immune support supplements. Immune support vitamins and herbal supplements by HealthyOne.
Strengthenyour body's defense: elderberry, zinc & vitamin c
give your body the ultimate edge when it needs it most! Not just a simple Vitamin C Supplement, but a combination of Elderberry, Zinc, Vitamin C, and more! A complete and natural immune system support supplement. Healthy Immune assists to Fortify & Enhance immune health all year round!
Whichimmune supplement is the right choice?
Unlike standard immune boosters with a couple bare ingredients, our research-based immune defense pills combine the immense power of Elderberry, Echinacea, Garlic, Zinc, Reishi Mushroom, Andrographis, Astragalus, VItamin C, Vitamin B3, Viamin B6, to provide you with an ALL-IN-ONE optimal Immune Defense and support supplement. We formulated this top notch multi-vitamin to support all of your immunity needs in just one single power packed easy-to-swallow pill.
Take 1-2 Capsules with a meal or glass of water. Additional dosages as needed or as recommended by your physician.
Ingredients Per Serving
ELDERBERRY- 300 mg 

The berries and flowers of elderberry are packed with antioxidants and vitamins that may boost your immune system. They could help tame inflammation, lessen stress, and help protect your heart, too. Some experts recommend elderberry to help prevent and ease cold and flu symptoms.

ECHINACEA - 300 mg      

Echinacea is widely used to fight infections, especially the common cold, the flu, and other upper respiratory infections. Some people take echinacea at the first sign of a cold, hoping they will be able to keep the cold from developing. Other people take echinacea after cold symptoms have started, hoping they can make symptoms less severe.

GARLIC - 100 mg 

Garlic supplements help prevent and reduce the severity of common illnesses like the flu and common cold.

ZINC - 15 mg (227% DV) 

Zinc is a nutrient that plays many vital roles in your body. Because your body doesn't naturally produce zinc, you must obtain it through food or supplements. Zinc helps keep your immune system strong. Because it is necessary for immune cell function and cell signaling, a deficiency can lead to a weakened immune response.

REISHI MUSHROOM - 200 mg    

Reishi mushroom has been used to help enhance the immune system, reduce stress, improve sleep, and lessen fatigue. People also take reishi mushroom for health conditions such as Viral infections such as the flu, shingles and AIDS, among others..

ANDROGRAPHIS - 200 mg 

Andrographis is most widely used to treat cold and flu symptoms. Andrographis is also said to act as a natural immune-booster. The herb has been used to treat certain other conditions.

ASTRAGALUS - 100 mg  

Astragalus is a natural dietary supplement that's used for various health conditions. For instance, it's used to treat the common cold, upper respiratory infections, fibromyalgia, and diabetes. Some proponents of astragalus use it for its possible heart benefits. They claim it may protect against heart disease. It's also used to help improve overall weakness

VITAMIN C - 200 mg (333% DV)

Vitamin C is an essential vitamin, meaning your body can't produce it. Yet, it has many roles and has been linked to impressive health benefits. One of the main reasons people take vitamin C supplements is to boost their immunity, as vitamin C is involved in many parts of the immune system. First, vitamin C helps encourage the production of white blood cells known as lymphocytes and phagocytes, which help protect the body against infection

VITAMIN B3 - 50 mg (315% DV)

Niacin, also known as vitamin B3, is an important nutrient. In fact, every part of your body needs it to function properly. As a supplement, niacin may help lower cholesterol, ease arthritis and boost brain function and improve the immune system, among other benefits.

VITAMIN B6 - 10 mg (500% DV)  

Pyridoxine is required for the proper function of sugars, fats, and proteins in the body. It is also required for the proper growth and development of the brain, nerves, skin, and many other parts of the body.
Nature's Most Powerful Ingredients
Do you catch a cold or flu each season?
Worried that your immune system isn't as strong as it should be?
Does your diet lack the proper vitamins and minerals to help
your body resist germs and diseases?  
Do you have children in school that bring home every cold or flu that goes around?                                           

Healthy Immune is a Natural Immune System Booster that is safe and effective. It is not an over the counter medication. You can take it every day with no side effects. Safe and effective for all ages.

Defend against colds, flus & viruses

Maintain & Support a Strong Immune System      
Doctor-Formulated 

• 8-in-1 Comprehensive Immune System Support
• Provides Essential Nutrients & Antioxidants
• Reduces Symptoms & Duration of occasional Cold & Flu
• Complete Formula For Overall Health